Defrocked monk Wiraphon back in Thailand to face charges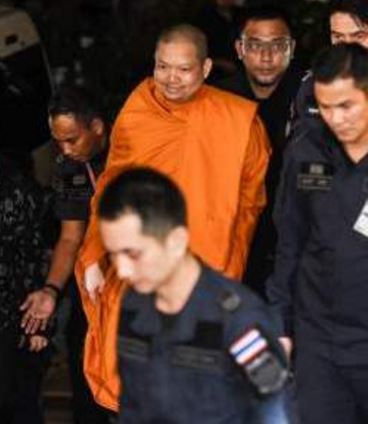 Fugitive defrocked monk Luang Pu Nenkham, or Wiraphon Sukphon, was immediately taken in a security motorcade to the Department of Special Investigation head office on Wednesday after he arrived at Suvaranabhumi Airport on a late-night flight from the United States.
DSI chief Pol Col Phaisit Wongmuang and Pol Lt Gen Phaisith Sangkhahapong, commissioner of the Police Foreign Affairs Bureau, took Wiraphon from the airport at 11.30pm to the DSI head office.
When he arrived at the airport at 10pm, Wiraphon was still wearing the orange saffron of Buddhist monks although the Sangha Council has defrocked him in absentia. He later changed to layman's clothes at the DSI.
Security was stepped up at the DSI head office as Wiraphon was detained there pending further legal action. He is currently facing a total of six charges.
Wiraphon was taken from the airport in a motorcade of a Toyota Camry car and two Toyota Fortuner SUVs. When he exited a Toyota Fortuner, he was flanked by some 10 DSI officials and taken into the DSI building amid a cluster of about 100 reporters and photographers.
The ex-monk is charged with loading false information onto computer networks; cheating the public; money laundering; raping a child no older than 15; molesting a child no older than 15; taking a child no older than 15 away from parents without decent reason.